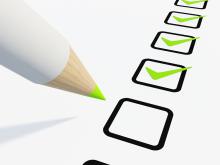 You Said - We Did: Summary of improvements implemented on Housing and Property Chamber Site
You Said - We Did
In advance of the transfer from the previous tribunal websites (for prhp and hohp) to the new Housing and Property Chamber site, a pulse survey was undertaken to seek feedback on improvements to the sites that could be implemented on this site. The survey was anonymous, and while we will not publish individual comments made, we have grouped the most common responses by the general subject of the feedback.
"It is difficult to find the relevant information"
We have replaced the general menu headings, for example "how we can help" as they have proven difficult to navigate, with more descriptive headings and grouped the pages by the relevant application type/jurisdiction. Now you should be able to go directly to a relevant subsection of the site from the homepage using the menu to take you to pages about Rent; Repairs; Right of Entry; or Property Factors.
"The application forms and guidance should be more prominent"
We have introduced a useful documents section visible on most pages that will show documents relevant to the page you are on. These are again grouped by jurisdiction, so for example if you are on any of the pages under the property factors heading, you will find a quick link to open/download the application form and useful guidance.
We have also categorised the documents on the forms/guidance pages to make it clearer what the content is for. For example, in the repairs forms and downloads page, there is a separate category heading for all the Scottish Government Statutory Guidance that landlords have to follow.
"I want to search previous decisions by type of complaint"
This is already in place for repairs cases, and we are working on introducing this for property factors decisions. The results table for property factor decisions will now show whether any code areas have been noted, and we will shortly be introducing the ability to search previous decisions by complaint type.
These are the main changes that have been worked on, however we hope you will find the whole site to be more responsive and intuitive to find the information you are looking for. We are always looking to improve this part of our service and will conduct further surveys periodically to assess the functionality of this site from the point of view of stakeholders.