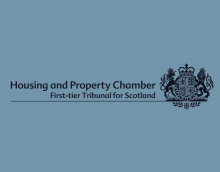 On 31 January 2018 Part 4 of the Housing (Scotland) Act 2014, which relates to Letting Agents, will come into force.  Its provisions include the establishment and maintenance by Scottish Government of a national register of letting agents.  Only those who are "fit and proper" persons can be included in the register.  It will be an offence to operate without being registered.  A new statutory code of practice for letting agents will also come into force.
Letting Agent Registration
Letting Agents will be able to appeal to the First-tier Tribunal for Scotland (Housing and Property Chamber) against decisions by Scottish Ministers to refuse to enter them in the register, to refuse to renew their registration or to order their removal from the register.
Tenants, Landlords and Scottish Ministers will be able to apply to the tribunal for a determination that a letting agent has failed to comply with the code of practice and for associated orders.
Applications to the Tribunal
Applications can be made to the First-tier Tribunal for Scotland (Housing and Property Chamber).  This is a specialist Tribunal based in Glasgow where it has its administrative centre.  Tribunal hearings will also be held in locations across Scotland, where required.
Housing and Property cases are heard by one or two of the Tribunal's members and its rules enable informality and flexibility wherever possible.  Parties are often unrepresented and the Tribunal's practices and procedures are designed to accommodate that and to provide them with appropriate support throughout the process.
More Information
Further information on the process and application forms can be found on the Housing and Property Chamber website here.
From 1 December 2017, appeals from the First-tier Tribunal for Scotland (Housing and Property Chamber) are made to the Upper Tribunal for Scotland.  Housing cases are no longer appealed directly to the Court of Session.  Before an appeal can be submitted to the Upper Tribunal for Scotland, permission to appeal must be obtained.  More information can be found here.
For further information relating to the regulatory changes please refer to the Scottish Government's website here.