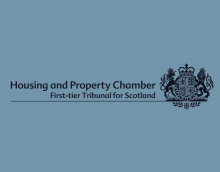 Letting Agent Code of Practice - a Year to Go! - UPDATE
With a year to go until the Code of Practice comes into force, this is a good time to take steps to make sure your business is ready.
From the 31 January 2018, if you undertake letting agency work in Scotland you must deliver your services in a way that complies with the Letting Agent Code of Practice. The Code sets out the standards of practice that you must meet, and includes specific requirements around how clients' money should be handled. It also makes it compulsory for your business to have Client Money Protection and Professional Indemnity Insurance (see section 8 of the Code).
If you haven't yet looked at the Code, now is a good time. The Code is set out in The Letting Agent Code of Practice (Scotland) Regulations 2016.
Alongside the Code, letting agents will be required to join a mandatory register of letting agents and key individuals in a letting agency will be required to have met a minimum level of training.
The Letting Agent Registration (Scotland) Regulations 2016 sets out the training requirements those applying to join the register of letting agents must meet, and additional information required for registration.
The Scottish Government are developing further information and guidance, including on preparing for registration and the training required. This is expected to be available from the end of February 2017 once the Registration Regulations have finished their Parliamentary scrutiny. It will be circulated by Scottish Government as soon as it is available.
UPDATE:
To assist letting agents to understand what their business needs to do to prepare for registration including the minimum level of training they must meet to be admitted, the Scottish Government has published an online guide on the mygov website at the following link: www.mygov.scot/letting-agent-registration.